NAMA News
Don't Forget About Flour During National Food Safety Education Month
September 5, 2023
---
September 5, 2023 – September is National Food Safety Education Month. This time of year is also the kick-off of fall baking season. Whether you're making a back-to-school bake sale treat or a favorite holiday dessert, don't forget to include food safety in your recipe!

Flour is a raw ingredient made from wheat grown and harvested in nature, and as such, it is possible for wheat to be exposed to environmental sources of naturally occurring pathogens. Processing raw grains into flour does not kill harmful bacteria. Cooking is the only way to be sure that foods made with flour are safe.

Follow these food safety guidelines when baking:
Never eat or taste raw flour, dough, or batter.
Follow recipe or package directions on baking mixes for correct cooking temperatures and times.
Don't use products that include raw flour in ready-to-eat recipes like milkshakes or "no bake" cookies.
Don't try to heat treat flour at home using a microwave or oven, which does not make it safe to eat uncooked.
Always wash your hands and all baking utensils with soap and water after handling raw ingredients including uncooked dough and batter.
Learn more about flour food safety at namamillers.org. Watch the North American Millers' Association's flour food safety PSA video or download the printable PSA in English or Spanish.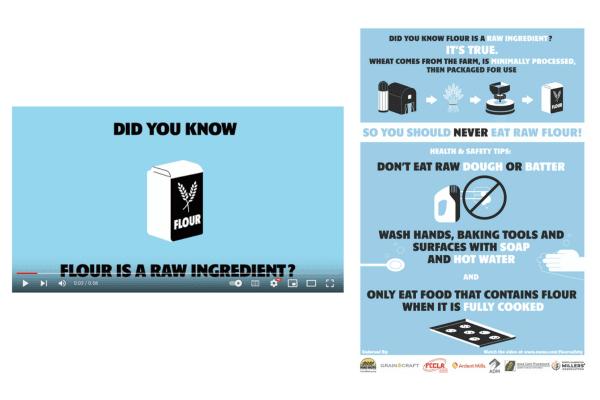 About NAMA:

NAMA is the only national trade association that exclusively represents the interests of the North American wheat, corn, oat, and rye milling industry before Congress, federal agencies, and international regulatory bodies. Member companies operate mills in 32 states, Puerto Rico, and Canada, representing more than 90 percent of total industry production capacity.

The North American Millers' Association is an equal opportunity provider and employer. Persons who require alternative means of communication for program information should contact [email protected] or 202-484-2200.
View All News