NAMA is the only national trade association that exclusively represents the interests of the North American milling industry before Congress, federal agencies, and international regulatory bodies.
---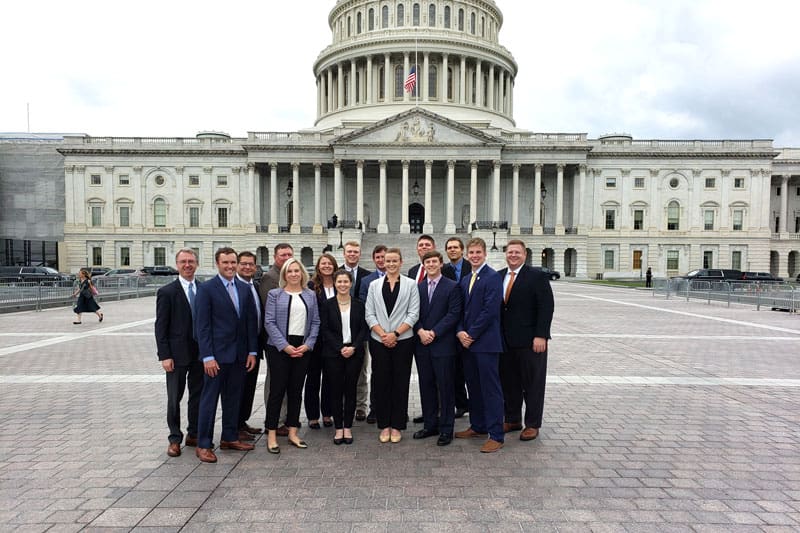 Milling Member Benefits
Board Membership
Every NAMA milling member has a seat on the NAMA Board of Directors which provides direction to the organization. The Board meets once a year at the annual meeting, which serves as an opportunity to network with fellow industry senior executives and discuss emerging industry trends.
Divisional Leadership
NAMA has three standing divisions (Soft Wheat Division, Corn Division, and Oat Division). Any milling member that processes (grinds) wheat, corn, or oats may participate in these divisions. Each division elects its own chair and each division meets several times per year to discuss and advance issues of unique importance to their sector. In addition, the Corn Division supports an annual Corn Dry Milling Conference that brings together millers, researchers, and allied organizations.
Committee Involvement
As a NAMA milling member, companies have several opportunities for team members to join their industry peers in the development and advancement of NAMA policy objectives. NAMA committees and subcommittees meet in-person and virtually throughout the year, giving members the ability to network with industry colleagues and share experiences and learnings.
The NAMA Technical Committee and its Food Safety and Nutrition subcommittees are at the center of many industry regulatory and technical issues. The committee offers a forum for members to discuss and prioritize industry issues, collaborate, and provide insight to regulators on industry challenges.
Other NAMA committees that members may participate in include the Supply Chain Committee, Sustainability Working Group, the Corn Dry Meeting Conference Planning Committee, the NAMA Foreign Market Development, Committee, Meetings Committee, and Finance Committee.
Connection to the Issues that Matter Most
NAMA provides regular consultation to federal agencies on a variety of issues and topics of importance to NAMA members. Whether submitting comments to regulatory dockets, engaging FDA on inspection activities, advancing policy interests on Capitol Hill, or collaborating with supply chain partners, NAMA is focused on achieving the priorities and goals of its members every day.
Regulatory Insights
NAMA members receive proprietary industry insight and analysis from Hogan Lovells US LLP, which is a leading authority on food regulations in Washington D.C. and NAMA's food law/regulatory counsel.
Industry Collaboration
In addition to addressing technical regulatory issues, NAMA partners with other like-minded organizations to advocate for science-based nutrition policy and the advancement of member priorities in such areas as child nutrition and the Dietary Guidelines for Americans.
Transport Policy
NAMA advocates for transportation policies for rail and trucks that benefit its members.
Research and Advancement
NAMA works with partner organizations and research institutions to advance research projects to improve the quality and resilience of North American wheat, corn, and oat crops.
Your Voice on The Hill
NAMA is the only trade association that brings the milling industry to Congress. NAMA continuously engages and educates Congress on legislative issues of importance to the milling industry. Research funding, nutrition, farm production policies, trade, transportation, and international food aid are just a few of the areas where NAMA engages congressional leaders.
Realtime Updates from The Hill
NAMA members receive the NAMA Weekly Grind e-newsletter, which highlights NAMA activities and programs and provides timely and relevant updates on regulatory and legislative activities in Washington, D.C. that specifically impact the milling industry.
Discounted Events
NAMA members receive discounted registration rates to attend the Spring Conference, the Corn Dry Milling Conference, the Washington, D.C. Policy Conference, and all other NAMA programs. Further, the NAMA Annual Meeting is exclusive to ONLY NAMA milling and associate members.
Associate Member Benefits
NAMA deeply values the companies and organizations that make up the milled grain supply chain that support and partner with the North American milling industry
Associate member benefits include:
Your company information and link to your website on NAMA's website
Participation in monthly NAMA all member issues update calls
Inclusion of your company description in our member directory
Subscription to the NAMA Weekly Grind eNewsletter for any of your company staff.
Opportunities to interface with key leaders in the milling industry at NAMA programs throughout the year.
Recognition at the banquet dinner at the NAMA annual meeting.
Membership Types
Milling members
Any person, partnership, corporation, or limited liability company with a facility in North America that engages in the dry milling of grain products, or which is engaged in the preparation and processing of protein grain products. Regular members may sit on committees and have representation on NAMA's Board of Directors. Dues are based on the amount of grain ground by the company and are paid quarterly.
Associate members
Any person, partnership, corporation, or limited liability company in North America having direct business relations with the processors of the products named above who is ineligible for regular member status. There is a flat rate for associate membership which is paid annually.
Request Membership Information